Mining
Comprehensive consulting services and a custom made mine planning for every client is the main element of FUMINCOs services in the field of mining. The services reach from client specific solutions for single tasks to all-in-one solutions in the context of operational long-, middle- or short-term mine planning.
With our services we are able to cover the whole range of reservoir management tasks from data sighting through the creation of borehole databases and geological 3-D-models to detailed mine planning and restoration display. During the last years we were able to participate in several national and international mining projects (Scoping Studies, Pre-Feasibility Studies, Feasibility Studies/Mine-Masterplan) with our technical competence.
Based on several years of experience in mine planning and with support of the Technische Fachhochschule Georg Agricola zu Bochum our employees are able to provide an operational process for mine planning that is DIN 9001 conform. The five (main) processes, beginning with the offer and concluding with the detailed mine planning allow us to constantly improve our services for the client. Also, due to this process, we are able to provide a vast amount of aids and documents to make the clients project planning and management easier.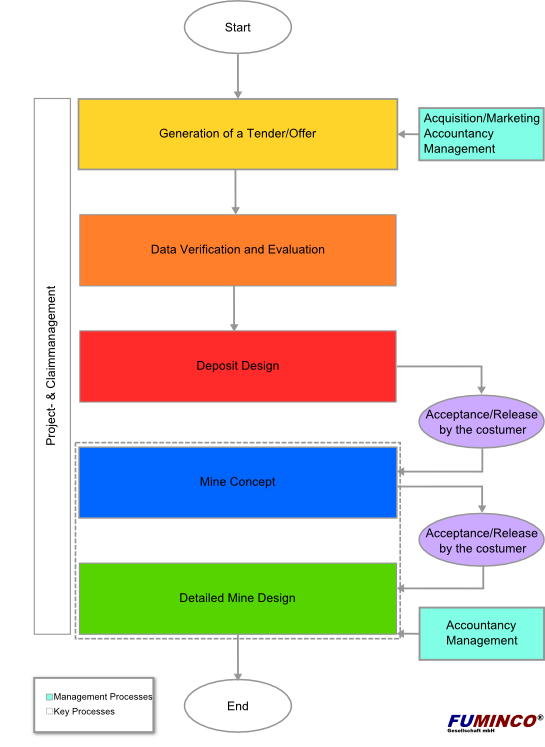 As independent and innovative mining planner and as reviewer we support our client in these areas:
Review of the clients data
Data processing with regard to utilisation in mine planning
Digitalisation work
Creation of comprehensive drillhole databases
Controlling and processing of drillhole databases
Development and improvement of digital geological block models
Creation of theme maps (resource-waste ratio, contained water, sulphur etc., seam thickness
Geological/mining/surveying profile cuts
Strategic and conceptional planning of mining and dump (mining concept)
Detailed mine and dump planning
Comparisons of mining options (shovel and truck/conveyor belt systems, railway systems)
Planning and illustration of recultivation activities
Support with recultivation planning (3-D presentations, etc.)
Calculation of centres of mass for mine and dump areas
Calculation and optimization of mining capacities
Selection of equipment and determination of crusher locations
HSEQ-Management
Consulting and support with economic issues
Creation of custom made illustrations (2-D and 3-D)
Support with the creation of operational mine plans
Creation of documents, illustrations and animations at the clients requirements
In addition to the work on ore deposits (e.g. iron ore in central Africa) and non-metallic resources (German limestone and Chinese clay deposits), we were able to collect a lot of experience working for large firms in international projects on hard coal and lignite (India, Kazakhstan, Columbia, Russia, Serbia, Laos, Turkey and Vietnam). The work on these deposits included the whole spectrum of modern deposit management, from the creation of the geologic model through strategic planning and mine planning to quality driven optimisation of business processes. FUMINCO also did work on historic mining for German hard coal mining.
This rich spectrum of tasks is handled by the use of modern standard software (spreadsheet, data processing), CAD- and mining-software and special information systems (SIS).